D. H. Lawrence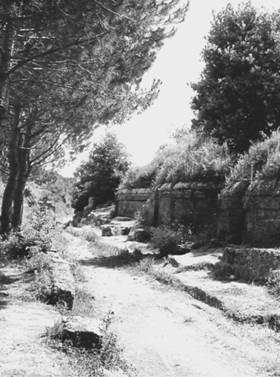 Lawrence
and the
Etruscans
A study tour to
Rome,
Cerveteri,
Tarquinia,
Vulci,
Florence and
Volterra.
17-23 June 2014.
Director: Keith Sagar
University of Nottingham
Co-Director: Simonetta de Filippis, University of Naples
Etruscan civilization flourished in the region between the Arno and the Tiber in the sixth and fifth centuries B.C., before being swamped by the Romans. The Etruscans left no literature and few buildings. Little of their language is understood. But it is possible, largely from their funerary art, to reconstruct something of their remarkable culture and religion. D. H. Lawrence believed that these 'living, fresh, jolly people' held some lost secret of life, and wrote Etruscan Places at the Villa Mirenda in the Tuscan hills in 1927, after visiting the most important sites and museums: 'I was really happy looking at Etruscan tombs by the coast north of Rome – Cerveteri, Tarquinia etc. The tombs are far more alive and twinkling than the houses of men'.
We shall visit all the sites Lawrence visited, with expert guides. There will be time to explore Rome and Florence, and brief visits to Siena and San Gimigniano. Transport will be in a luxury coach, and accommodation in *** hotels for three nights in Rome and three in Florence.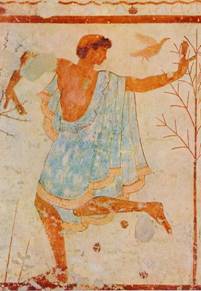 The tour will begin in Rome, where we shall visit the Villa Giulia Etruscan Museum, and have a day-trip to Cerveteri and Tarquinia, ending with dinner in Vetralla. There will be time for exploring Rome. On the fourth day we shall leave Rome after breakfast, spend the morning in Vulci, and proceed to Florence, with a short stop in Siena. In Florence we shall visit the Villa Mirenda, Scandicci, where Lawrence wrote Etruscan Places, and the Archaeological Museum. There will be a day-trip to Volterra (calling at San Gimigniano). There will be free time for exploring Florence.
A courier from the travel agency will be with us for the whole week, as will Keith Sagar and Simonetta de Filippis (the editor of the definitive Cambridge edition of Sketches of Etruscan Places), both of whom will give talks. There will be local guides at all the sites.
The course fee should not exceed £1000. This does not include flights. Very cheap flights to Rome are available from several UK airports, returning from Pisa. A group booking will be made for those travelling from Gatwick.
The tour immediately precedes the international Lawrence conference at Gargnano on Lake Garda (23-27 June). Transport will be provided from Florence to Gargnano for those attending the conference, and to Pisa airport for those returning to London.
The tour is open to anyone, but limited to 25. Early enrolment is essential.
For a detailed itinerary and enrolment form please contact Keith Sagar –
keithsagar1@gmail.com, 28 Beverley Drive, Clitheroe, Lancashire, England, BB7 1HY.
| | | |
| --- | --- | --- |
| Download Lawrence and the Etruscans free: | Word | pdf |
---
'Art for Life's Sake':
Essays on D.H.Lawrence Critical, Cultural and Communications Press, 2011.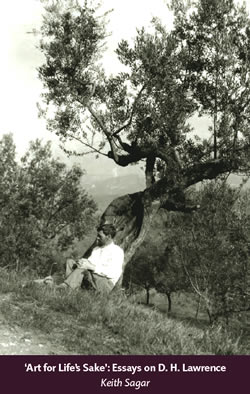 Of Keith Sagar's first book, The Art of D. H. Lawrence (1966), Professor Vivian de Sola Pinto wrote that it marked the start of serious Lawrence scholarship in England. Alastair Niven described Sagar's Calendar of Lawrence's works (1979) as 'indispensable, fascinating and almost certainly as authoritative a literary calendar as we could expect for any writer'. Professor John Worthen described The Life of D. H. Lawrence (1980) as 'the best single-volume biography of Lawrence'. Keith Brown, reviewing D. H. Lawrence: Life into Art in the Times Literary Supplement in 1985 wrote: 'Criticism of Dr Sagar's book is well-nigh impossible. It is clearly going to be there as long as formal Lawrence studies survive'. Of his latest book, D. H. Lawrence: Poet (2008), Christopher Pollnitz wrote: 'Keith Sagar has done more than any other critic to reshape understanding of Lawrence as poet'.
In addition to his books, Keith Sagar has produced over fifty years a stream of essays, introductions and lectures on Lawrence, fifteen of which (including four which are unpublished) are collected here.
Contents
Introduction: Lawrence in my Life.
1. Lawrence and the Wilkinsons. 1962.
2. Introduction to D. H. Lawrence: Selected Poems. 1972.
3. Lawrence and Frieda: The Alternative Story. 1976.
4. The Strange History of The Daughter-in-Law. 1978.
5. Beyond D. H. Lawrence . 1980.
6. Introduction to D. H. Lawrence: Sons and Lovers. 1981.
7. Introduction to D. H. Lawrence: The Complete Short Novels. 1982.
8. D. H. Lawrence: The Man and the Artist. 1987.
9. Mr Noon. 1988.
10. D. H. L and R. L. S. 1992.
11. How to Live? The End of Lawrence's Quest. 2005.
12. Three Risen Lords: The Genesis of The Escaped Cock. 2007.
13. The 'Shame' Chapter of The Rainbow. 2008.
14. Lawrence's God. 2008.
Checklist of Keith Sagar's publications on D. H. Lawrence.
This book is available from www.new-ventures.net for £14.99, where it is listed under Nottingham Lawrence Studies. (Some users may find that the BUY NOW button does not work. In that case please e-mail your order to enquiries@new-ventures.net. and they will send you an electronic invoice.)
| | | |
| --- | --- | --- |
| The following essays may be downloaded free: | | |
| St Mawr: The Monk and the Beast | Word | pdf |
| The Ending of Sons and Lovers | Word | pdf |
I have several Lawrence postcards to his sister Emily for sale at £500 each. E-mail me for details: keithsagar1@gmail.com
---
D. H. Lawrence: Poet
Keith Sagar has done more than any other critic to reshape understanding of Lawrence as poet. In this collection of essays, he writes, with unpretentious ease and the gravity that comes from a life-time's critical consideration, on the full range of the poetry.
Christopher Pollnitz
D. H. Lawrence wrote over a thousand poems. His standing as a poet would probably have been much higher but for his pre-eminence as a writer of fiction. Though much has been written about Lawrence's poetry (as revealed by the several hundred entries in the book's checklist of criticism), there have been relatively few full length studies. This book deals with the whole range of his poetry from his earliest poems, such as 'To Campions' and 'To Guelder Roses', through the poems inspired by his elopement with and subsequent marriage to Frieda Weekley ('Look! We Have Come Through!), to the mature achievement, in free verse forms inspired by Walt Whitman, of Birds, Beasts and Flowers, Pansies and Last Poems. The genesis of the poems in Lawrence's life is explored; and there are new interpretations of his most memorable poems, such as 'The Wild Common', 'Piano', 'Song of a Man Who Has Come Through', Tortoises, 'Peach', 'Pomegranate', 'Snake', 'Bavarian Gentians' and 'The Ship of Death'.
Contents
Foreword:
Lawrence and Imagination
Chapter 1
The Young Man and the Demon
Chapter 2
Lawrence's Debt to Whitman
Chapter 3
'Little Living Myths': Birds, Beasts and Flowers
Chapter 4
The Genesis of 'Snake'
Chapter 5
Womb, Wind, Fissure and Underworld: the Stages of Lawrence's Poetic Quest
Chapter 6
'New, Strange Flowers': Pansies, Nettles and Last Poems
Checklist of criticism of Lawrence's poetry
D. H. Lawrence: Poet, 2008. www.troubador.co.uk/shop
site created by The Word Pool